Welcome to MOYA AERO
Beyond Aero Logistics.
Moya Aero, founded in 2020 by Alexandre Zaramela and Renata Paolillo, is a spin-off of ACS Aviation,
Brazil's leading aeronautical engineering, research and aircraft development entity located in the heart of Latin America's industrial corridor, São José dos Campos.

ACS Aviation has an impressive list of first achievements, including:

The SORA-e
The first company to build and fly a manned electric aircraft – the SORA-e – in the southern hemisphere (2015).

The LSA in China
The first company to certify a Light Sport Aircraft with China's CAAC, enabling Chinese companies to begin scale production.

Class 2 UAV (up to 150kg)
The first company to receive Brazilian ANAC certification for an experimental Class 2 UAV.

Class 1 eVTOL (above 150kg)
On track to be the first company to deliver a Class 1 eVTOL to the market.

The team at Moya Aero has both led and consulted on 15 new aircraft projects over the last 15 years. All of the aircraft flew successfully.
Meet the Moya Aero Founders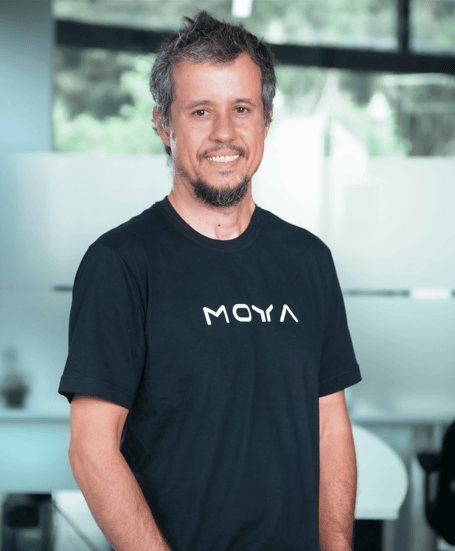 Alexandre Zaramela
Chief Executive Officer (CEO)

Alexandre is a true pioneer in electric aviation. His experience spans 20 years in the fields of aircraft stress analysis, aerodynamic loads, wind tunnel testing, ground and flight testing, and certification.

As co-founder and later Chief Executive Officer of ACS Aviation, he developed aircraft for general aviation, UAVs, and manned electric airplanes. During his tenure there, he designed, produced and tested an all-composite Light Sport Aircraft, and small and medium-sized UAVs.

For over a decade, Alexandre has worked to refine electric propulsion for his innovations. In May 2015, he flew the SORA-e, first manned electrically-powered airplane in South Hemisphere.

Today, Alexandre leads a team of Moya Aero engineers focused on delivering more environmentally-responsible, sustainable, efficient, emissions-free products. His goal is for Moya Aero to be the leader in producing all-electric unmanned aerial vehicles for cargo and precision logistics.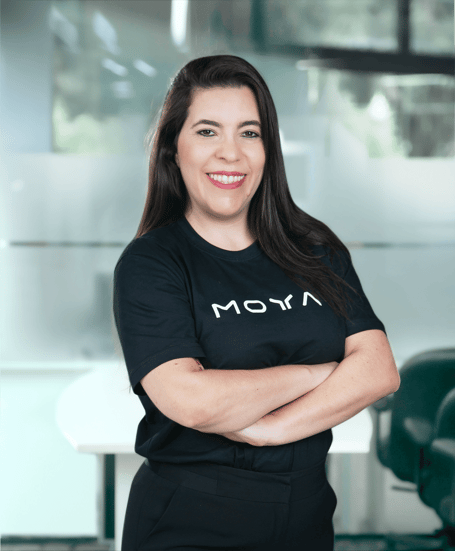 Renata Marins Paolillo
Chief Operating Officer (COO)

Renata has a broad background from her decade in the aerospace industry. During her career in both the commercial and business aircraft divisions at Embraer, she worked in project and product management, business development and pricing for services and support, market intelligence, marketing, product strategy and sales engineering.

Renata holds an international certificate in Supply Chain and Operations (APIS-CPIM). She applied that knowledge during her 5 years consulting for several different industries. She also has a degree in Production Engineering and an MBA in Business Management.

Her goal is to use her end-to-end, strategy-to-business knowledge to ensure Moya's products create value and benefits to customers, communities, and the industry.

Our collective experience covers a wide spectrum of aerospace. We draw on that knowledge to capitalize on market opportunities with aerial vehicle concepts that address many age-old logistics problems:


• Reducing CO₂ emissions to ZERO in logistics.
• Connecting remote regions with vital supplies
• Accessing communities with poor or no infrastructure
• Improving the efficiency, productivity, and cost of crop management
• Making hazardous flying safer
• Connecting business with customers faster, cheaper, and simpler

Our ideas are creative. Our products are transformative.


We believe those who prioritize efficiency through innovation will advance the future of logistics.


Our first mission is to bring greater efficiency to the world of agriculture management. Creating more productive and sustainable land benefits us all.
Technology in Moya Aero's designs produce higher-performing vehicles that are more precise in delivering their payloads and, in turn, greater productivity.

Revolutionizing the agribusiness with our Moya eVTOL is just the first step in our vision to add more innovative, unmanned, all-electric products.

On the drawing board are concepts for eVTOL Xtra Range, STOL, and High Lift vehicles.

The future requires courage.
Courage to explore.
Courage to be a pioneer.

To challenge the status quo and innovate.
MOYA exists to radically transform logistics.
To explore new routes that are cleaner, more agile, and more transparent.

Flying is in our DNA, and we've explored a lot, but we want to fly even further.

From Brazil to the world, we are here to embark on even bolder paths.

We combine the expertise of pioneers in aerial innovation with technology
to develop flight solutions that go beyond.

Beyond distance, beyond access, beyond efficiency.
Through the path we walked and the knowledge we have accumulated,
we are ready to draw the map that will transform logistics.

More than a route, we follow a vision.
We'll go where it wasn't possible.
We don't just do logistics; we transform company productivity.

Our flights are autonomous, so our customers can be, too.

More than cargo, we deliver a more efficient and sustainable future.
We make the world look smaller so companies
can go where they never thought they could.

Moya, beyond aero logistics.

Stay up to date on the latest
Moya Aero news and developments.